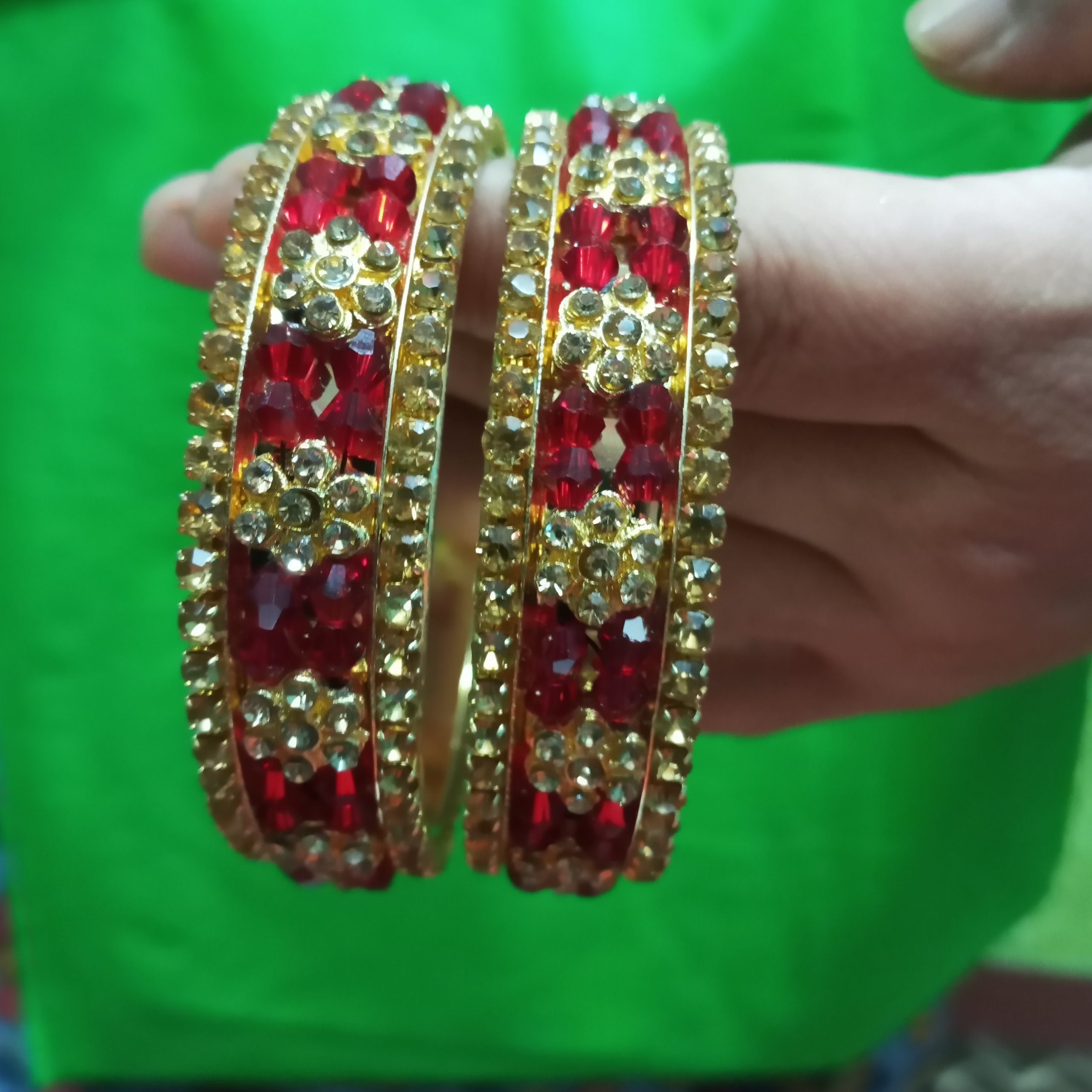 Description
Elevate your style with these stunning Red Colorful Stone Bangles for girls who appreciate the beauty of tradition and modern aesthetics. These bangles for girls are more than just accessories; they're a statement of elegance and grace.
Vibrant Red Stones: These bangles for girls feature a captivating array of red stones that add a touch of brilliance to any outfit. The rich, deep red color is versatile and pairs beautifully with both traditional and contemporary ensembles.
Colorful Accents: In addition to the captivating red stones, these bangles for girls incorporate colorful accents that provide a delightful contrast. These subtle hues add a playful charm to your overall look.
Quality Craftsmanship: Each bangle is meticulously crafted by skilled artisans to ensure durability and comfort. They are designed to be comfortable for all-day wear, so you can enjoy them during special occasions or everyday outings.
Adjustable Size: These bangles come in a standard size that can be easily adjusted to fit most wrist sizes.
Versatile Design: Whether you're dressing up for a wedding, festival, or a casual outing with friends, these bangles are the perfect choice.
Perfect Gift: Looking for a thoughtful gift for a special girl in your life? These Red Colorful Stone Bangles for girls are a fantastic choice for birthdays, anniversaries, or any occasion that calls for a touch of sophistication.
Specifications:
Material: High-quality alloy with red stones and colorful accents
Color: Colorful Red Stone accents
Package Includes: A set of two Red Colorful Stone Bangles
Enhance your charm and make a memorable fashion statement with these exquisite Red Colorful Stone Bangles. Order yours today and experience the joy of timeless beauty combined with modern flair. Feel free to customize this product description to suit your specific needs or provide additional details as necessary.